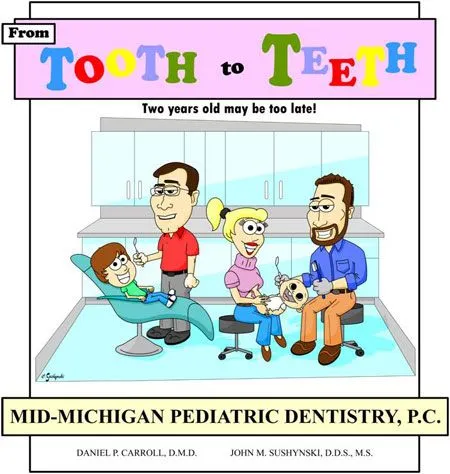 The American Academy of Pediatric Dentistry recommends the first dental visit occur within six months after the first tooth appears, but no laterthan your child's first birthday. Mid-Michigan Pediatric Dentistry has established an Infant Oral Health exam program to encourage oral screenings at a young age for the following reasons:
Starting early is the key to a lifetime of good dental health.
Cavities are almost completely preventable through proper nutrition, hygiene, and fluoride supplementation.
Early treatment of dental caries avoids future pain and discomfort.
Baby teeth are important in chewing and speech and hold space in the jaws for the adult teeth.
During an infant oral health exam visit at Mid-Michigan Pediatric Dentistry, our doctors will do the following:
Review medical and dental histories,
Give a complete oral exam to check growth and development, oral hygiene, injuries, cavities or other problems,
Determine your child's risk of developing tooth decay,
Provide suggestions for daily oral care including tooth brush instruction,
Evaluate your child's fluoride needs to optimize the preventive benefits,
Apply fluoride varnish when needed,
Review feeding practices that may lead to tooth decay,
Discuss teething, pacifier use, or finger/thumb sucking habits,
Talk with you about common dental injuries and what to do if one happens,
Discuss treatment if needed and schedule the next check-up.